Early witness accounts varied, leaving frantic police and a fretful public uncertain how many attackers were involved, drawing the havoc out most of the day
Article content
It is perhaps absurd after years of war abroad and threats of reprisals at home that events in Ottawa struck with such shock and bewilderment, but imagery of Wednesday's armed assault on Parliament Hill was vivid and horrifying: a soldier shot dead while doing honorable duty at the graceful National War Memorial; Cabinet members barricading their wood-paneled caucus door with plush, green upholstered chairs; fretful tourists cowering beside the landmark Peace Tower; and officers stalking the marble halls of Parliament with guns drawn, releasing a fearsome fusillade at an armed attacker.
Article content
The chaos of the day and the magnitude of the symbolic damage, as well as personal grief and disquiet, will have lasting impact, but it all began, witnesses said, with a man climbing from a car on the normally busy Wellington Street with a blanket draped over a long-barreled gun.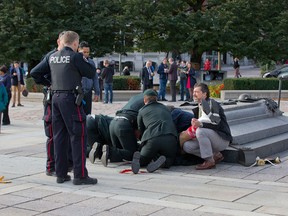 Walking toward the war memorial, he pointed his gun at a soldier on ceremonial guard – who also carried a gun but one without ammunition, adding acutely to the meaning of ceremonial.
The gunman fired three or four times, witnesses said, striking the soldier, who was wearing his regimental kilt, in the chest. He collapsed at the granite, coffin-shaped Tomb of the Unknown Soldier.
"The honour guard dropped to the ground and the shooter kind of raised his arms in triumph holding the rifle," said Tony Zobl, 35, who watched from a nearby window.
Article content
Passersby working to save the soldier were soon joined by an ambulance crew, but his wounds were catastrophic. Hours later it was announced that Corporal Nathan Cirillo, a reservist from Hamilton's Argyll and Sutherland Highlanders, had died. He was hailed by the Chief of Hamilton Police Glenn De Caire as "a part-time soldier and full-time Canadian."
As is almost always the case, early witness accounts varied, leaving frantic police and a fretful public uncertain how many attackers were involved, drawing the havoc out for most of the day.
"I saw the whole thing; it was unbelievable," said a man watching from his office window overlooking the cenotaph who did not want his name published. "Three shots, two at point-blank range. The shooter was young, 30ish, Caucasian and male. He had dark, longish hair, facial hair and a black and white Palestinian-type headscarf over his face, which he pulled down after the shooting.
Article content
"Then he held up the gun and shouted something that I didn't hear."
Afterwards, said Jan Lugtenvorg, a Dutch tourist who had been waiting with his wife for a bus tour, the young man ran towards Parliament Hill carrying a long black rifle.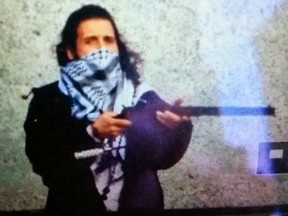 Construction worker Scott Walsh, working in a manhole near the East Block, said a man with a long gun ran past him, just five feet away; ignoring a woman with a stroller and child, an eyewitness claimed the man hijacked a car at gunpoint and drove towards the Peace Tower.
"There is a shooter on the loose," a police officer told civilians at the scene, urging reporters and onlookers to seek cover.
The gravity of what was unfolding began to sink in as attention shifted across the street: a gunman — or multiple gunmen, no one was sure — was attacking Canada's Parliament.
Article content
Ric McIver, Alberta's Minister of Labour, was visiting Ottawa for a meeting with federal minister Jason Kenney, when he was confronted by the drama.
"A brown Toyota Corolla with no licence plate roared up the street and screeched to a halt, 10 metres from us," Mr. McIver told QMI.
"And the gunman walked right toward us … I didn't think I could get to him before he could pull the trigger so I ran," he said. "He apparently wasn't interested in me. He walked around the corner of the East Block toward the Parliament buildings."
'The gunman walked right toward us … I didn't think I could get to him before he could pull the trigger so I ran'
As the gunman walked up the paved ramp under the looming Peace Tower clock, Greta Levy, a press secretary for the NDP, was leaving.
"None of us reacted at first but then we heard a security guard yelling, 'There's a gun, get down, get down, there's a gun.' "
Article content
The gunman was followed into the Centre Block by police officers calling out their location to other officers, witnesses said.
Inside Parliament, it brought bedlam.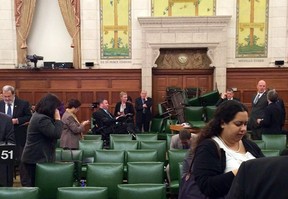 Wednesdays are busy on the Hill, traditionally its busiest day, when the House of Commons does not sit and political parties hold caucus meetings with their members of Parliament and Senators. Each major party meets in its own room in Centre Block.
Either by forethought of happenstance, the path of the gunman took him right towards the Conservative and NDP caucus rooms, where MPs barricaded doors with furniture.
At 10:02 a.m., Michelle Rempel, a Conservative Member of Parliament and member of the Cabinet, said through Twitter: "Mom im okay Im in hiding," her poor syntax adding to her sense of urgency.
She followed with a question: "is it clear people? shots were outside caucus room." This stands in contrast to her anti-terror tweet one month ago, a "secure bedroom selfie" of her preparing to sleep accompanied by the message: "I'm feeling pretty secure right now — [because] of hard won freedoms."
Article content
Liberal Member of Parliament John McKay said a librarian in Parliament told him a gunman was walking the halls with a rifle.
The shocking level of the penetration was made clear by Tony Clement, President of the Treasury Board, who said Prime Minister Stephen Harper was in the government's caucus room at the time but is "now secure." Mr. Harper was quickly taken from the Hill to a safe, undisclosed location.
"Shots fired during caucus meeting. at least 30 shots. MPs piled out. I'm safe with 2 colleagues but we're still at risk," Mr. Clement said on Twitter at 10:18 a.m. "Assuming it's not safe to venture out yet."
Both NDP Leader Thomas Mulcair and Liberal Leader Justin Trudeau were also reported safe.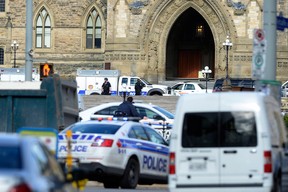 Peggy Nash, an NDP Member of Parliament, tweeted: "Very frightening here in [Centre] block. So many shots. I'm safe but not sure what's happening." Ms. Nash then said a heavily armed tactical squad of police had arrived.
Article content
Chrystia Freeland, a Liberal Member of Parliament, heard shots as she was walking to her party's caucus meeting.
"I recognized they were gunshots. The right thing to do was hide. I took off my high heels and put on my runners because I had to run," she told MSNBC.
Parliament was put on a sweeping lock down, and occupants were told to stay in their offices and stay quiet and still.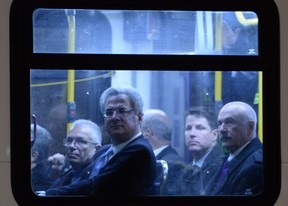 A shaky video by The Globe and Mail's Josh Wingrove shows a phalanx of officers walking slowly along the broad main corridor of Centre Block — called the Hall of Honour, which runs beneath the Peace Tower — with guns drawn.
The video jostles madly when the boom of an apparent gunshot erupts, followed by a rapid peppering of gunfire. A body was then seen prone in the Parliament hallway — the gunman, police later confirmed.
Article content
"Gunman at Parliament's Centre Block has been shot and killed," Conservative Member of Parliament Bernard Trottier tweeted at 10:30 a.m.
On a day where targets were almost certainly chosen for symbolic value, the end to the attack on Parliament came with symbolism of its own: several MPs credited Parliament's Sergeant-at-Arms Kevin Vickers with bringing the gunman down. Mr. Vickers, 58, is formally responsible for the safety of Parliament and Parliamentarians, a role widely considered, in the modern era, to be ceremonial.
"MPs and Hill staff owe their safety, even lives, to Sergeant-at-Arms Kevin Vickers who shot attacker just outside the MPs' caucus rooms," NDP MP Craig Scott tweeted.
At about noon, Ottawa Civic hospital received two patients, one with gunshot wounds and the other with unknown injuries. Neither were identified, but were said to be in stable condition.
Article content
But that did not end the confusion, chaos and fear.
Witnesses reported hearing shots in different corridors of Parliament and some fled the building by using the scaffolding erected for renovations.
Past 1:40 p.m., a security alert warned that all buildings in the Parliamentary precinct were still on lockdown.
"This means stay in your office, with the doors locked and away from the windows. If your door does not lock, find a way to barricade the door, if possible," read the emailed alert. "Do not open the door under any circumstances. Security Services has the required keys."
Outside, there was fear of the shootings being part of a coordinated attack. Police continued to maintain the situation was "ongoing." Citizens were told to remain indoors and vigilant, and were pushed ever further from Parliament.
Article content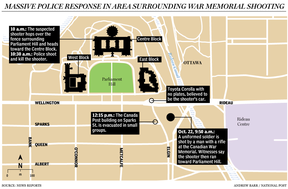 There were reports of a gunman fleeing on a motorcycle and a witness said there were two people in the car when it arrived at the cenotaph. There were also claims of a gunshot from a nearby rooftop, a shooting at the Rideau Centre mall, and an attack at the Château Laurier, the historic hotel down the road, so large and so grand tourists often mistake it for Parliament itself.
Eventually, those reports were dismissed, although tepidly and uncertainly.
Even by an afternoon media briefing, Ottawa Police Chief Charles Bordeleau said only that circumstances remained "fluid" and the investigation was "ongoing." Gilles Michaud, RCMP assistant commissioner, called it a "dynamic" situation.
Roadblocks were set up at bridges between Ottawa and Gatineau, QC, and security was heightened at potential targets, including the nearby U.S. embassy and downtown schools.
Article content
Nationwide, Canada's military was placed on alert, its bases closed to the public and a directive sent to military personnel to wear civilian clothing in public when not on duty.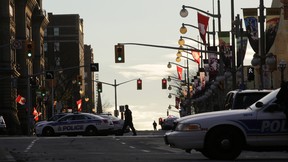 In an odd turn of events, Chief Bordeleau said police were there to protect Canada's soldiers: "We are very aware of the large presence of military personnel on our city and we want them to know we are committed to their safety."
But officials said it would take some time to fully understand what precisely had taken place and urged citizens to remain vigilant.
"Today is a sad and tragic day for a city our country," said Ottawa's mayor, Jim Watson.
It was not until after 8 p.m. that Mr. Harper appeared on TV, calling the gunfire a terrorist act.
"Today has been, without question, a difficult one," he said, in a sombre tone.
He offered condolences to the family of Corporal Nathan Cirillo who, Mr. Harper said, was "murdered in cold blood."
"In the days to come we will learn more about the terrorist and any accomplices he many have had," he said.
"Canada is not immune to the types of terrorist attacks we have seen elsewhere around the world. But let there be no misunderstanding … Canada will never be intimidated."
National Post with wire services

https://nationalpost.com/news/canada/ottawa-terror-attack-left-images-both-vivid-and-horrifying